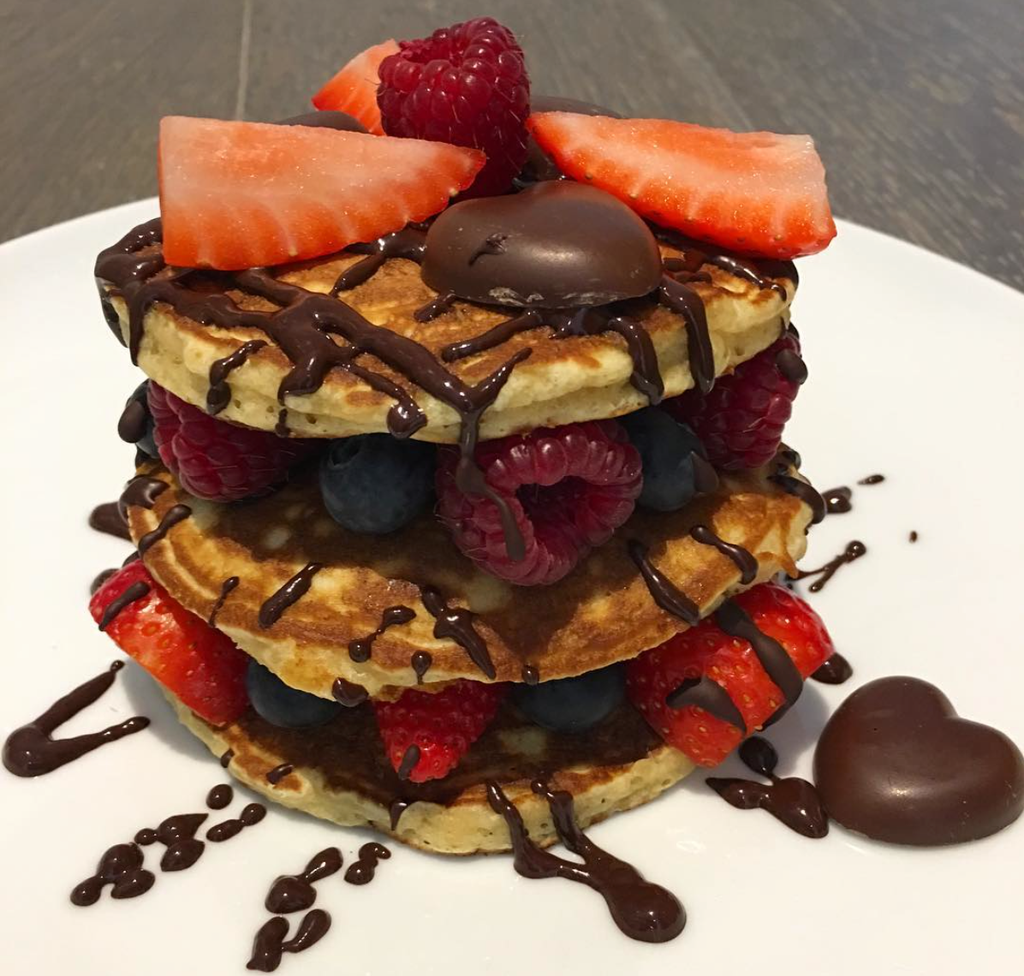 We've gone for the less traditional stack this Pancake Day, and all prepared by the culinary genius that is Courtney Pruce. She's whipped up these awesome, lighter than light, fluffy American buttermilk style pancakes...wow that was a mouthful, a bit like these soft, golden discs of deliciousness will be!
She's gone for the option without protein this time around, and we have to agree, sometimes the addition of protein, whether it is whey or a more plant based source does tend to dry out whatever you're making, including pancakes. We agree, that unless the addition of protein is minimal so that it is unnoticeable, then we'd prefer it without too.
Luckily there are plenty of other ways to bump up the protein, for example Courtney has used our Cocoa+ milk protein chocolate hearts as little toppers and then melted and drizzled some of our luxury milk protein chocolate slab over the top to give this stack a chocolatey makeover. 
This dessert contains only a sprinkling of sugar in our protein chocolate and the fruit used as toppers, the remainder of the pancakes themselves contain no sugar and low calorie and low fat ingredients. 
Give them a go...
Utensils -
large mixing bowl
whisk
pan
teaspoon
Ingredients -
130g of plain flour
130ml coconut milk
1 large egg
2 teaspoons of melted coconut oil
30g of granulated sweetener
A teaspoon of baking powder or bicarbonate of soda
Assorted berries
Method -
Whisk the egg lightly with coconut milk and coconut oil in a mixing bowl.
In a separate bowl combine the sweetener and baking powder.
Now add the dry ingredients to the egg mixture, a small amount at a time and whisk until the batter is smooth and thick.
Let the mix stand for 3 to 4 minutes.
Break up some Cocoa+ milk squares from the slab and melt in a bowl over a pan of simmering hot water.
Melt some coconut oil in a frying pan on medium
Spoon the batter into the frying pan into the desired shape. 
Once the pancake begins to rise, flip it over and allow to rise some more.
Drizzle the melted Cocoa+ chocolate over the stack and scatter on some mixed berries and protein chocolate hearts for good measure.
Happy Indulging!
It's Good + More Good.