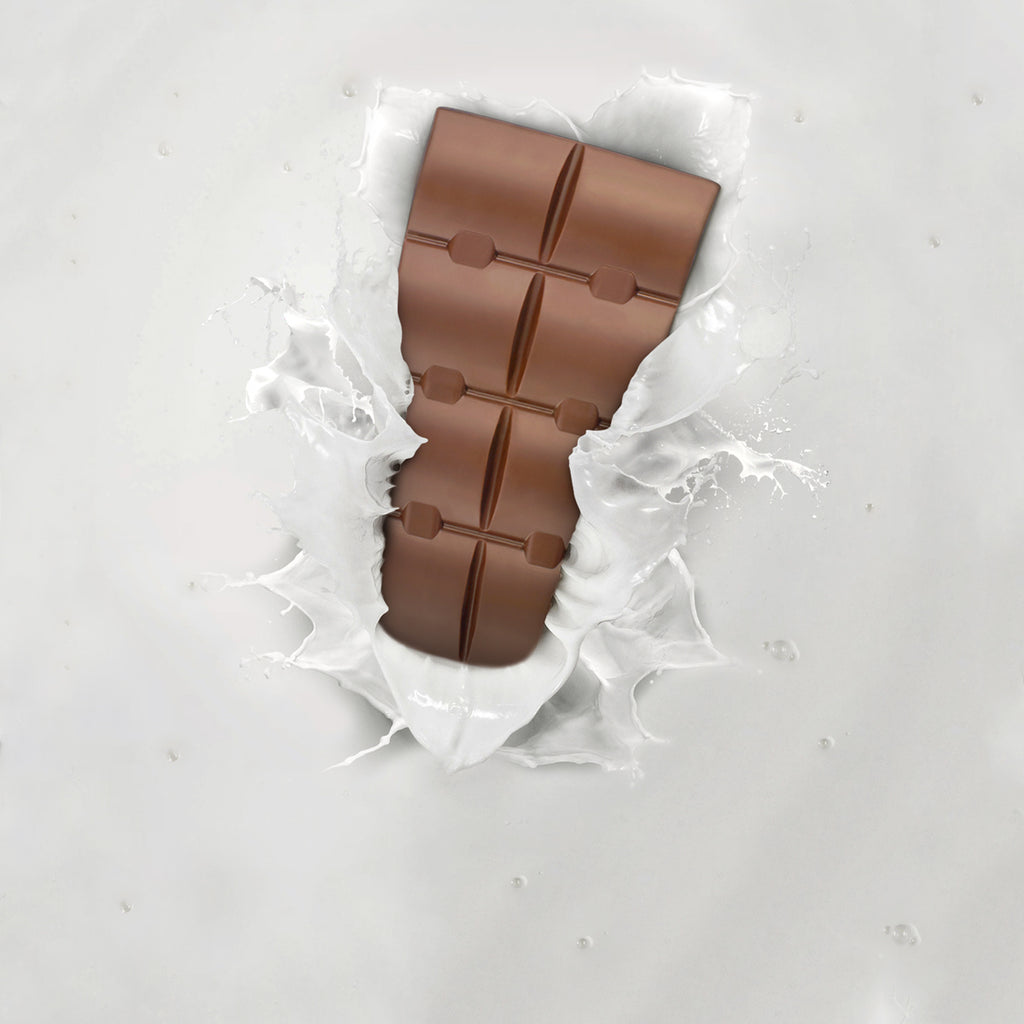 The difference between dark chocolate and milk chocolate lies with the ingredients, generally to define something as milk or dark you look at the % of milk solids and cocoa solids within the chocolate. Our original protein chocolate contains no milk solids and so is considered darker than your average chocolate bar which explains the luxurious strong cocoa taste and rich dark colour. Whereas to create our new sweeter, creamier milk protein chocolate we've infused the chocolate with milk powder to give it that lighter look and silky smooth feel! 
We've made a healthier milk chocolate?!
Time and time again we see articles online supporting the health benefits of dark chocolate but never milk chocolate. But why?
We think it's because the leading milk chocolate brands can usually be categorised by the following:
1) Their number 1 ingredient is sugar (over half the bar)
2) They contain less cocoa solids (around 25% cocoa solids)
3) Vegetable oils such as Palm and Shea are used to bulk up the bars so that more expensive ingredients like cocoa solids can be omitted to save costs. 
We decided that this needed to change and we sat down to set about creating the perfect, healthier milk chocolate with all the milkiness and creaminess but none of the nastiness.  
Hundreds of attempts later, we are thrilled to welcome our new milk chocolate to our protein chocolate range, and are proud to say:
+ Our number 1 ingredient is high quality cocoa butter 
+ We contain 60% less sugar than the industry leader
+ We have 5 x the protein content of regular milk chocolate and use quality whey protein isolate (over 27g per 100g)
+ Our milk protein chocolate is a natural source of fibre
+ We do not use sweeteners such as maltitol or fructose to sweeten our slabs
 We are proud of our efforts and we've worked hard because we care about your health and what you put into your bodies without compromising on the quality and taste of our chocolate.
---
Check out our milk protein chocolate reviews here and decide for yourself!
It's Good + More Good.