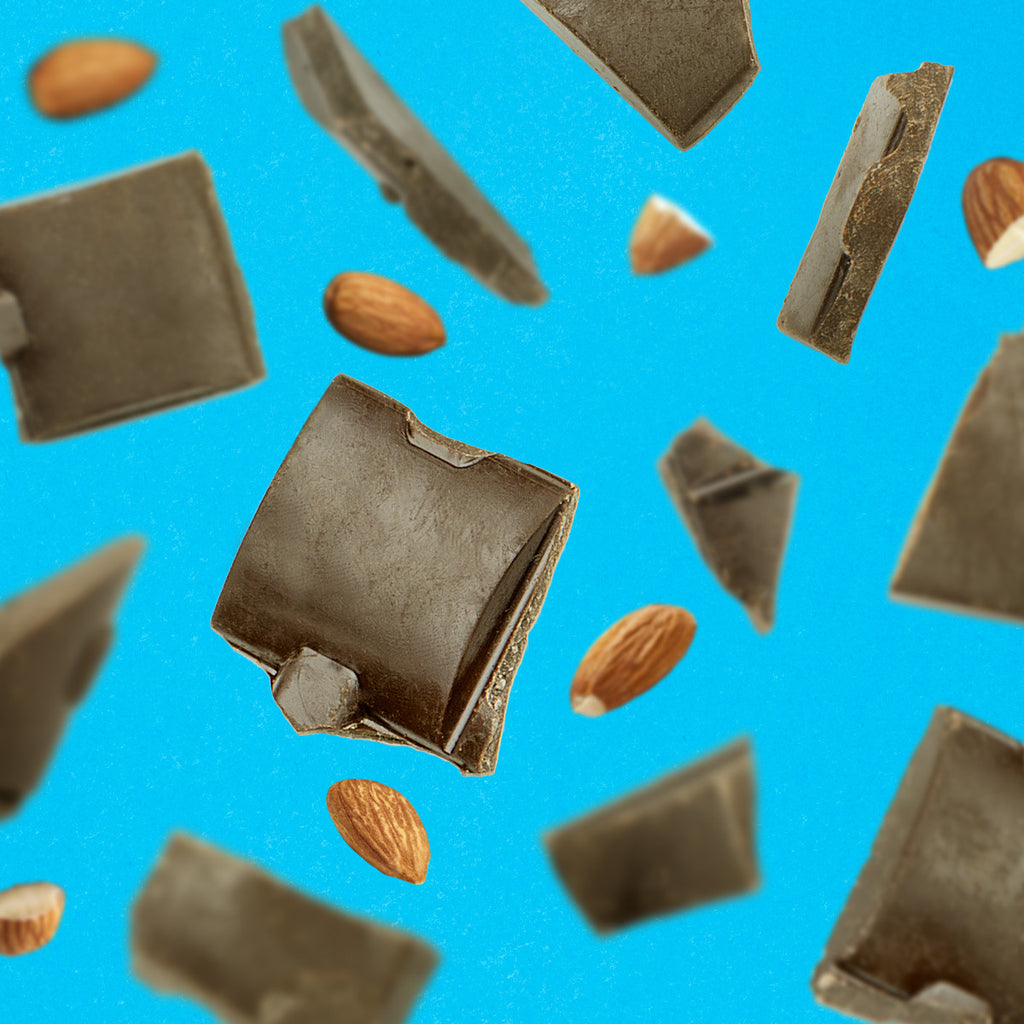 We've been working around the clock at our factory, working on creating exciting healthy flavours for all chocoholics . It's been a long journey but the benefits of our High Protein Luxury Chocolate is that there is so much to create!
Earlier we brought you the likes of our flavoured whey crispies range, jam packed with crunchy, quality whey crispies, that not only gives our protein chocolate that amazing texture but also boosts the protein content to new greater levels! We then listened to your requests for something completely different, an even healthier alternative. Enter the Almond...!
 Seeing as a handful almonds contain one eighth of our daily protein needs and even slows aging, a protein chocolate almond bar was a no brainer to be honest.
Did You Know?
Almonds are actually seeds and not nuts! Impress your friends with that fact! Ha!
They also contain loads of health benefits:
+ Almonds boost Vitamin E levels in the blood and lower cholesterol levels
+ Folic acid and fibre in almonds encourages cardiovascular health
+ Consuming Almonds daily has been proven to reduce that waistline
+ Fortified with vitamins great for hair and skin
In A Nut Shell...
Our new almond inclusions make a healthy and tasty addition to our whey protein fortified 55% chocolate! We prefer a creative fun way to get your protein and all the health benefits that the almonds coupled with the whey isolate provide. 
Enjoy Chocoholics!
It's Good + More Good.
References
Brufau G, Boatella J, Rafecas M. Nuts: Source of energy and macronutrients [Abstract]. 

British Journal of Nutrition

.2006; Suppl 2:S24-8

Jambazian PR1, Haddad E, Rajaram S, Tanzman J, Sabaté J. Almonds in the diet simultaneously improve plasma alpha-tocopherol concentrations and reduce plasma lipids [Abstract]. 

Journal of the American Dietetic Association

. 2005; 105(3):449-54

Jenkins DJ, Kendall CW, Marchie A, Parker TL, Connelly PW, Qian W... Spiller GA. Dose response of almonds on coronary heart disease risk factors: blood lipids, oxidized low-density lipoproteins, lipoprotein(a), homocysteine, and pulmonary nitric oxide: a randomized, controlled, crossover trial [Abstract]. 

Circulation. 2002;

 106(11):1327-32

Salas-Salvadó J, Bulló M, Pérez-Heras A, Ros E. Dietary fibre, nuts and cardiovascular diseases [Abstract]. 2006; 

British Journal of Nutrition

. Suppl 2:S46-51.