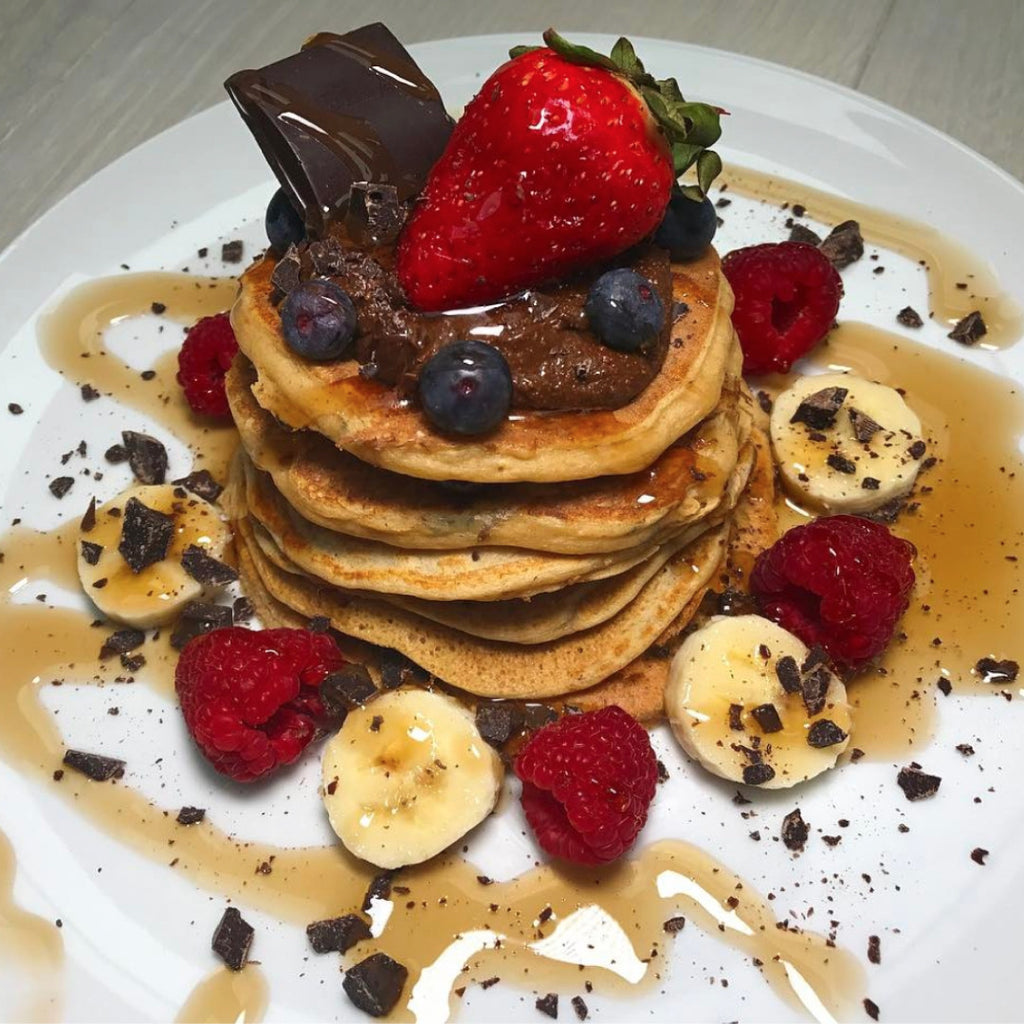 It's Pancake Day here, and we're very excited! Nothing goes better with those gorgeous light brown golden discs of deliciousness than our luxurious high protein original chocolate. 
Pancake Day Special! Grab a free chocolate bar when you order a bundle here (valid 28th Feb only)
The Clean Eating Guide (Courtney Pruce) is at it again with all her baking wizardry and she's whipped up this amazing recipe that we want to share with all you chocoholics.
We both believe that carbs are by no means the enemy, and are essential when it comes to post workout nutrition. Heavenly mouth-watering pancakes are just what our bodies need after a tough training session. Super high protein, satisfying treats perfect for that day dedicated to all things pancakes. 
Utensils -
large mixing bowl
hand blender
whisk
pan
teaspoon
Ingredients -
20g vanilla whey protein powder
20g coconut flour
2 medium eggs (or 115g of liquid egg whites)
40g oats (optional: TCEG uses 20g oats and 1/2 medium banana)
1 tsp baking powder
1 tsp of cinnamon
almond milk/water (for desired consistency)
Method -
Heat up a non-stick frying pan with some coconut oil or low kcal cooking spray and let it get very hot. 
Combine the oats and yoghurt into the mixing bowl and whisk together
Add in the remaining ingredients (asides from the almond milk) including the broken up protein chocolate and whisk together until smooth and well combined. 
Leave to thicken for 2 minutes.
Once thickened, add the almond milk or water one tbsp at a time until the mixture is runny enough to be pourable.
Pour the mix into the hot pan according to how large you want the pancakes. Cook the pancakes for 2 minutes on each side until lightly golden brown in colour
To serve stack them up and scatter small chunks of high protein luxury chocolate all over the stack. Or if you're feeling adventurous, melt a few squares of protein chocolate and drizzle all over your delicious pancakes. 
Happy Indulging!
It's Good + More Good.