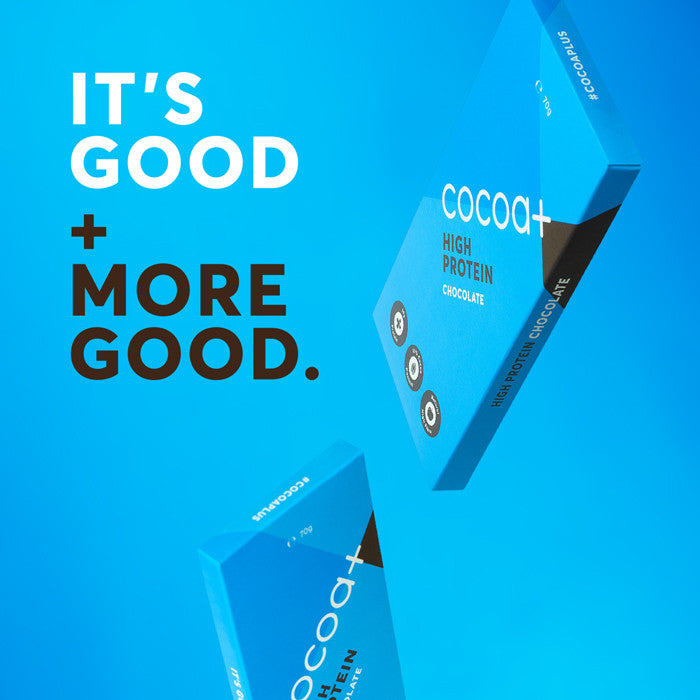 Everyday millions of people are choosing to use high protein supplements within their diets, but why?
In an age where people are busier than ever, we are becoming far more accustomed to grabbing a quick snack, whether it be in between meetings, or to and from the gym. Protein bars and shakes make the top of the list for increasing protein levels within customised diets to fit our busy schedules. Rich in protein, both provide a quick and simple intake of this key nutrient, helping to support recovery after exercise, rebuild muscles and promote that 'fuller for longer' feeling!
"Best of all we refused to compromise on taste and texture!"
We know, when hunger strikes, protein bars are hassle-free and ready to eat wherever and whenever, but here lies a problem: Many manufacturers use artificial sweeteners, flavours and preservatives to create a chewy, unappetising product.
Enter Cocoa+
Imagine a succulent chocolate bar infused with the power of protein, which is only made using a few natural ingredients. It sounds too good to be true, right? Well here at Cocoa+ that is exactly what we've made. Our high protein luxury chocolate bar contains lower sugars than most, has no nasty hidden surprises and packs a powerful 19g of protein. Best of all we refused to compromise on taste and texture!
We have designed a bar that contests high sugar treats and improves on lacklustre protein supplements. We listened to the pleas of the consumer and came back with a high protein chocolate treat for the masses. Let Cocoa+ satisfy your sweet tooth and fulfil your protein needs.
It's Good + More Good.
---
References
 Lindseth, G., et al. Nutritional Effects on Sleep. W J Nurs Res. 2011 Aug
 Westerterp-Plantenga M S, et al. Dietary protein, metabolism, and body-weight regulation: dose–response effects. Int J Obesity. 2006: 30, S16-S23.
 Weisgarber KD, et al. Whey protein before and during resistance exercise has no effect on muscle mass and strength in untrained young adults. Int J Sport Nutr Exerc Metab. 2012 Dec;22(6):463-9.